We work to meet our client's needs.
Equities Funding Group, Inc., headquartered in North Fort Myers, FL, has been in business for over 25 years. Our President, Steve Kolton, has over 34 years of experience. Our main focus of business is to assist start up companies, credits that have been denied by other funding sources and the B & C credits. We also offer competitive rates for the A credits.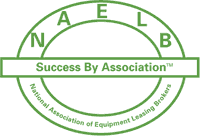 We are a courteous, service oriented group with customer satisfaction as our primary goal. We not only want the first transaction, we are seeking to build customer relationships for the long term.
Equities Funding Group, Inc. is a "ONE STOP FUNDING SOURCE" that offers financial opportunities for business purposes.
We offer leasing for various types of equipment, new and used. Our motto is, "If it moves, we can lease it." We have many lease programs available, with terms from 1 to 5 years, and we can do the "start-up" business to the Fortune 500 company.
Turn Future Sales Into Cash Now!
How might your company benefit if you had extra cash available in the next 5 to 7 business days? You could:
Open new location or remodel existing one.
Purchase new/used equipment or inventory.
Launch advertising & promotional programs.
We can APPROVE businesses that BANKS REJECT!
Application is simple and free. Decisions are made in hours, not days. We look for a reason to say "YES" to your request for "instant working capital".